Jack Richards & Son has announced today the sale of the business to Turners (Soham) Limited. The deal brings together two privately-owned family businesses creating a combined fleet of over 2,100 units and 3,500 trailers; one of the largest in the UK. Together with Jack Richards & Son, the Turners Group will provide an extensive haulage offering of curtain-side trailers, temperature-controlled units, tankers, containers and warehousing operating across 38 sites in the UK.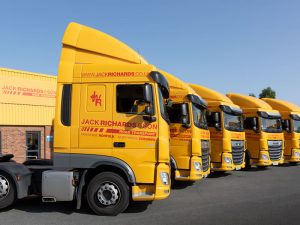 Lisa Richards, Director at Jack Richards & Son told us,
"We are delighted to announce that we have joined forces with Turners. It's a natural fit; two East Anglian-based haulage businesses with a similar heritage, we share the same core values. Both companies have built a reputation for reliability and exemplary customer service. This partnership will secure our future as a leading road transport business in the UK."
Lisa continued,
"In a time of economic uncertainty, our industry is venturing into unknown   territory, but this investment from Turners puts us in the strongest possible position to maximise the opportunities ahead."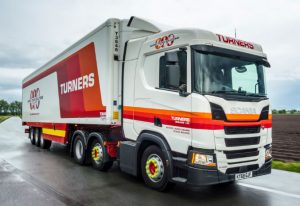 Turners was founded in 1930 by brothers Wallace & Frank Turner. 'Wal' (Wallace Turner) was friends with Jack Richards & Son founder 'Jack' when he set the business up in 1956. Today, the company is run by Wallace's grandson Paul Day, Managing Director for the Turners Group.
He commented,
"I am absolutely delighted that Jack Richards & Son has joined the Turners   family. We share the same vision for growth, innovation and world class customer service. By adding a curtain-side fleet to our offering, we   now have a very comprehensive package to offer customers. The connection between the two companies dates all the way back to the 50's when our Grandfathers were friends; so, it feels like we were destined to come together."
Paul Day went on to say,
"Jack Richards represents a new venture for the Turners Group as it enters the General Haulage sector. It is probably the most competitive sector within the transport industry and it was vitally important we found a quality business to enter this market. It's rare to find such any opportunity to buy an efficient, well-managed company. Jack Richards has exceptional people and loyalty from its staff and customers. Turners will do everything it can to retain these strengths and provide support to help the company build further growth to continue its successful history."
The acquisition of Jack Richards & Son positions the Turners Group in the Top 15 road transport companies in the UK with a projected turnover of £475M in 2019. There will be no immediate change to the name Jack Richards & Son and the existing board of Directors will remain in place. Anthony Richards & Lisa Richards will each retain 10% shares in the business and will continue to be a huge part of the company.
Managing Director Peter Brown told us,
"I am really excited about the chapter ahead for our business. In 2015, we set out a 5-year succession plan for our senior management: where Lisa Richards succeeds me as Managing Director at the point of my retirement in 2021. This is still our vision and the partnership with Turners reinforces that. Over the next two years, I be working closely with Lisa and Paul Day to ensure the business continues to grow and be a success."
Chairman Anthony Richards concluded by saying,
"This deal protects the future of the company and all our staff. We are excited about working with Paul Day and feel very optimistic about the future of the company."