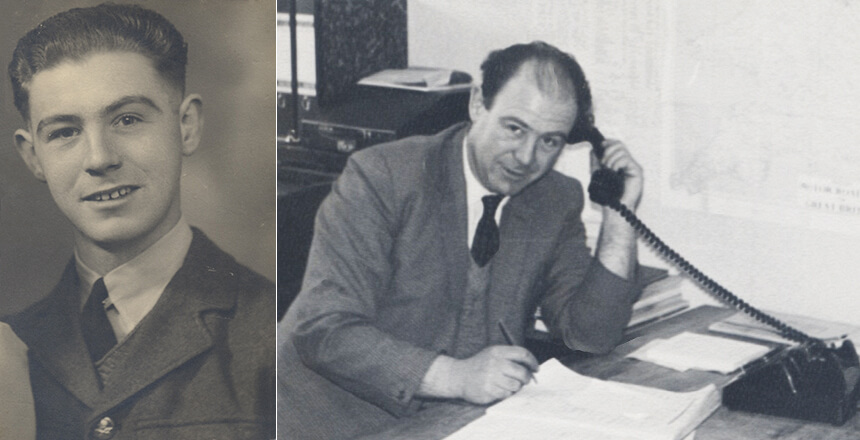 The story of Jack Richards & Son is full of surprising facts and it starts in Haddenham, Cambridgeshire more than 60 years ago.
This is the story of how our founder, Jack Richards created a revolutionary multi-million-pound transport business.
In the beginning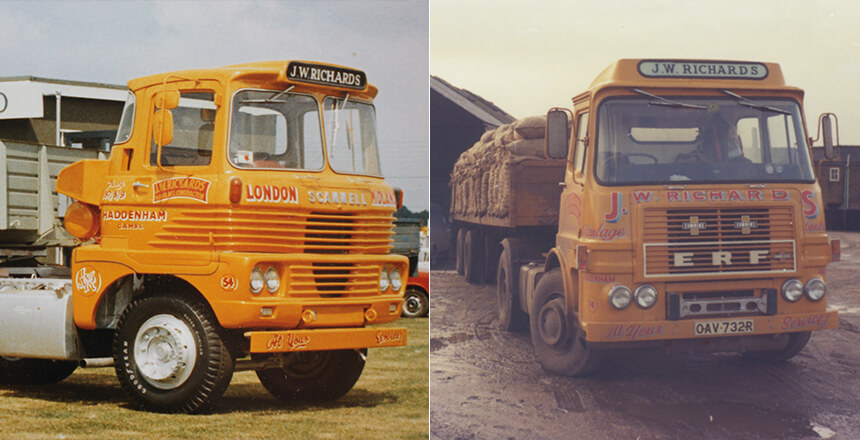 1956
Armed with just a five-ton Bedford truck and a great deal of enthusiasm and self-belief, today's nationwide transport business is started in May 1956 by Jack Richards in Haddenham, Cambridgeshire. It proves to be an unstoppable combination, and from these humble beginnings a multi-million-pound transport business is born.
The company, known simply as JW Richards, offered a nightly service from Cambridgeshire to the wholesale fruit and vegetable market in Nottingham.
The early years
1971
The company fleet has grown consistently on the back of reliable services and to keep up with demand, now numbers well over 40 vehicles. With more and more business hauling produce from Norfolk, the company opens operations at Fakenham in the north of that county and changes its name to Jack Richards & Son, to reflect the widening family involvement. Specifically, Anthony, Jack Richards' son.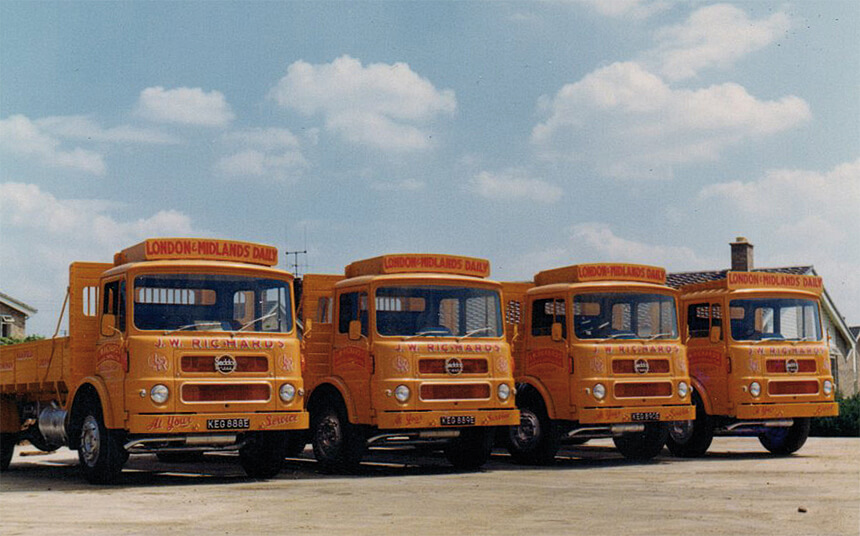 1977
The Fakenham operation has continued to grow in importance and volumes and, with Jack soon spending most of his working week there, a decision is taken to manage all the company's business from this depot. While wholesale produce markets are in decline, due to the increasing impact of supermarkets, more and more produce is going directly to packing stations to be washed, graded and packed before despatch to supermarkets or distribution centres. This results in even more work for the company, which now transports produce from farm to packing station and then onward to the supermarkets.
Curtainside trailers are now increasingly popular, and, with its high-quality reputation for service reliability, the company has become the preferred haulier for many blue-chip companies across a diverse range of industrial sectors.
1990's expansion into the Northwest
1994
Steady development of the company's services see it expand into the Northwest, supporting customers like Lever Bros and Kellogg's. A few initial parking spaces in the Warrington area swiftly become a leased two-acre site with office and warehouse facilities. The increasing pace of Northwest business sees the company quickly outgrow even this site however, and the first part of what eventually expands into an eight-acre site is purchased in Cheshire.
Alongside its focus on nationwide curtain sided trailers operations for full-load, contracted haulage, the company now sees a new niche market developing and enters the palletised load business. Palletways, the palletised-load distribution service, is formed in 1994 with the Jack Richards company one of its founding members.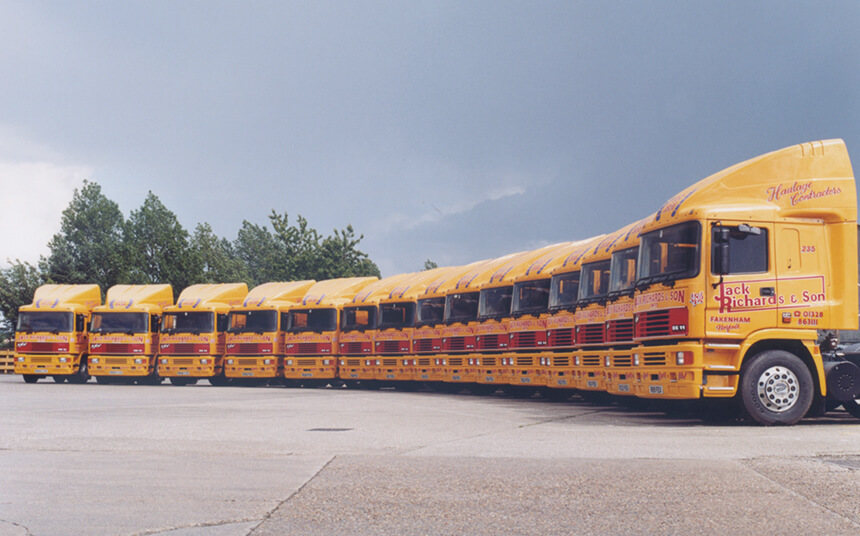 New investment for a new century
2005
Success of the Palletways venture sees a dedicated warehouse and office complex was developed on the Fakenham site, which has also expanded to meet the demands of the company's growth as a major national haulier. With offices and workshops all being enlarged and warehousing facilities increased, the Fakenham site grows almost five-fold to cover over seven acres.
2006
Peter Brown is appointed as managing director, bringing Jack Richards & Son Ltd a wealth of successful experience in the transport and logistics industry. The first non-family member of the senior team, Peter quickly settles into his role and, in harness with Jack and Anthony, immediately sets to work opening up new opportunities for the company. As a result, the customer base and volumes handled have grown yet further. To satisfy these demands, the size of fleet and the company's associated resources have all been grown correspondingly.
2010
New business acquisitions see the haulage fleet grow further with specialist customer livery now taking its place alongside the traditional all-yellow trucks. At the same time, 3.5 tonne and 18 tonne vehicles join the Palletways fleet to maximise load efficiencies.
Investment into specially designed airflow kits also see the haulage fleet maintain high levels of economy and operating efficiency.
2011
Both Fakenham and Northwich all upgraded with the very latest in traffic planning and vehicle tracking software. Jack Richards & Son is now fully-equipped to meet all existing demands and undertake further expansion. New business acquisitions see the fleet grow further with specialist customer livery now taking its place alongside the traditional all-yellow trucks.
2012
After a successful independent career with a number of high-profile logistics companies, Jack's grand-daughter, Lisa Richards, daughter of Anthony Richards the company chairman, joins the business in its Northwich depot.
2013
New trucks and trailers are added to the company fleet to cope with growing demand for the well-proven services. A significant growth is enjoyed in warehousing services across the depots, but especially at Fakenham, where the company takes on a major service operation for the Big Green Egg barbeque operation in the UK. This new relationship includes not only storage of the highly regarded barbeque range, but all parts and accessories, and the order picking, consolidation and outbound distribution, which takes place using the Jack Richards & Son Palletways operation alongside the main haulage fleet. In a further major development, the operation is further expanded to include assembly of the high-value barbeques both for specific order fulfilment and UK stock-holding that also now takes place in the Fakenham warehouse complex.
Jack Richards develops logistics solutions and wins two major contracts with Smurfit Kappa providing total end-to-end distribution services at their sites in March and Mold.
A lasting family legacy
2014
After a long fight against illness, our founder, Jack Richards passes away at the age of 90. He had handed over most of the day-to-day business running over preceding years to his son Anthony but maintained a close interest in the company right up to the end, even managing the purchase of fuel on the stock markets until late on. The Richards name lives on however, with his son Anthony as chairman, and grand-daughter, Lisa, now general manager of the Northwich branch. Jack's sad demise was recorded with great affection and regret across the industry press, and crowds lined the streets of Fakenham in Norfolk, where he had run the business since 1974, for the passing of his funeral cortège.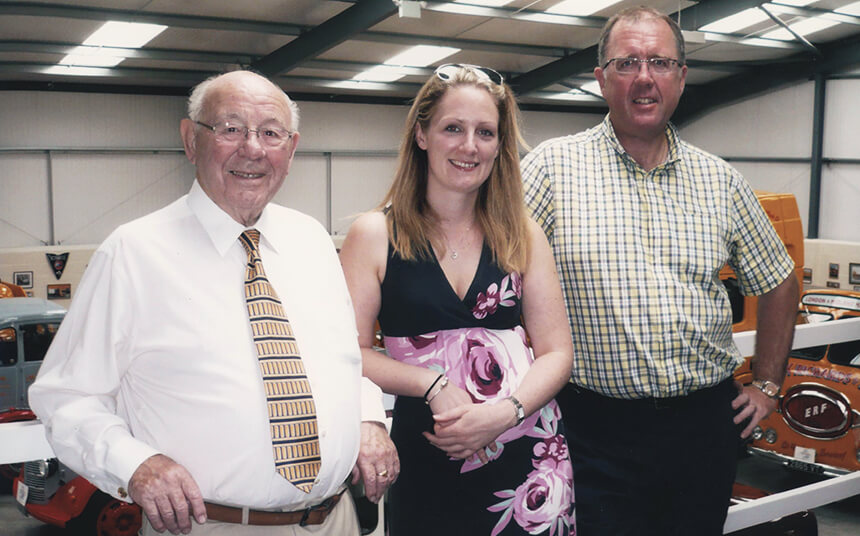 Lisa Richards's career in the business continues successfully and she is promoted to Regional Director North.
2015
The company maintains its rolling fleet renewal policy of not having any vehicles over three years old, by taking on 150 Euro 6 DAF tractor units as replacements for all its vehicles outside this parameter, becoming one of the most modern fleets in the sector.
A very 'public' development also makes its presence felt on the road, as the new tractor units and a number of new trailers (part of a major fleet renewal programme) appear with an updated livery. Many of the livery elements established over the years by Jack are retained, of course, but they are now combined into an overall look that is more dynamic; more in keeping with the very progressive the business has become over the years.
2016
In May 2016, Jack Richards celebrated its 60th anniversary.
After consistent growth throughout the 60 years, Jack Richards & Son now has a fleet of over 330 tractor units and 560 drivers providing a total transport distribution service across the UK. Supporting this operation with a cost-effective palletised freight service nationwide and across Europe. Also offering DVSA approved commercial MOT test lanes at our Fakenham depot, warehousing facilities, JAUPT approved CPC driver training and specialist recruitment consultancy services.